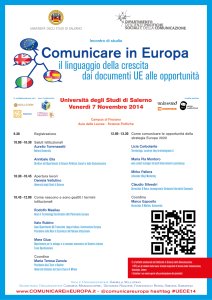 Public Communication and Institutional Languages course of University of Salerno launches a series of workshops whose theme is "Communicating in Europe" in collaboration with Ass.I.Term – Italian Association for Terminology and Realiter – terminology pan-Latin network, sponsored by Fondazione ANCI Ricerche Cittalia and Termcoord – Terminology Coordination Unit, European Parliament.
The initiative's purpose, devised by Daniela Vellutino, is focused on a scientific debate on how to share the terminology from UE institutional documents in order to enhance the possibility to access the opportunities of growth created by the right use of European Funds 2014-2020.
The workshop "The growth Language: from EU documents to Opportunities" will be held in the Hall of Degrees of Political Sciences Faculty on Friday 7th November.
In the first session relators will discuss the provenance of terms and their management by institutions.
Participants:
Rodolfo Maslias, head of Terminology Coordination Unit,
Italo Rubino, head of Language Department of DG Translation, Italian Language, European Commission, Rete per l'eccellenza dell'italiano istituzionale coordinator
Mara Giua, Team Open Coesione, Dipartimento delle politiche di Sviluppo e Coesione
Moderator:  Maria Teresa Zanola, Università Cattolica del Sacro Cuore di Milano, president of Ass.I.Term and Realiter,
The second session will focus on the importance of terminological knowledge in public communication through a debate among operators from important sectors for communication of the opportunities of 2014-2020 funds.
Participants:
Licia Corbolante, terminologist and blogger terminologiaetc.it
Maria Pia Montoro, web content manager for Intrasoft International, Luxembourg,
Mirko Pallera, co-founder Ninja Marketing,
Claudio Silvestri, journalist for il Roma, vicesecretary of Sindacato Giornalisti Campania
Moderator: Marco Esposito, journalist for Il Mattino, economist.
The workshop is an activity of  Communication Sciences doctorate school.
1 CFU will be assigned from the didactic areas of BA and MA courses in Communication Sciences, Literature and Sociology.
The initiative is an event open to journalists' participation.